It is a regular occurrence for history books to be reprinted, but rarely are whole pages torn out at once. This is exactly what happened when Verstappen entered Formula 1.
The Dutchman made his official F1 debut during free practice for the 2014 Japanese Grand Prix, just three days after his 17th birthday. Since then he has been recognized as the youngest racer, youngest points winner, youngest podium finisher, youngest race leader and youngest competitor at a GP weekend. Although Verstappen doesn't bother with records himself, the most notable mention is that of the youngest race winner, exactly six years ago today.
Kvyat out, Verstappen in
Daniil Kvyat, Toro Rosso and Max Verstappen, Red Bull in the press conference
Photo: Andy Hone / Motorsport images
That a Red Bull car could win races wasn't a surprise even six years ago, but that it would happen in the hands of a teenager in his first race for the Austrian team was. At the beginning of 2016, Red Bull was split in two. On the one hand they held gold with Verstappen at Toro Rosso and on the other hand Daniil Kvyat, who was under a lot of pressure, at Red Bull.
The team management was given the pretext to sack Kvyat and roll out the red carpet for Verstappen during the Russian Grand Prix. The Russian faced Sebastian Vettel twice in his home race. This had previously happened in China and so now was the ideal time to replace Kvyat with Verstappen.
Hardly any lead time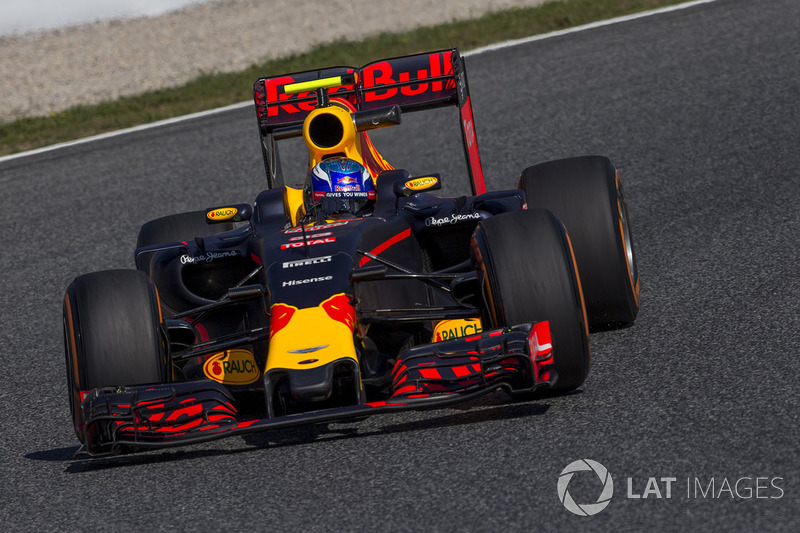 Max Verstappen in the Red Bull RB12 at Barcelona
Photo: Sutton Images
Four days after the Russian Grand Prix on May 5, 2016, the trade was officially announced. Verstappen would be Daniel Ricciardo's new teammate ten days later at the Spanish Grand Prix. The Dutchman is preparing for his debut at Red Bull for ten days.
The free practice sessions on the Circuit de Barcelona-Catalunya showed that Verstappen wasn't afraid of cold feet. Verstappen immediately gave his calling card by being just two tenths slower than Ricciardo on Friday. And in the last practice session on Saturday morning, the Dutchman was even faster than his more experienced colleague. In qualifying, it turned out that Ricciardo had not been sleeping: he beat Verstappen by four tenths, but both Red Bull times were enough for P3 and P4 on the grid behind Mercedes duo Lewis Hamilton and Nico Rosberg.
Verstappen himself was amazed at his progress and the smooth way he functioned within the team. "I didn't expect to adapt to the car so quickly. I really wasn't expecting to be in the second row, which is a positive. We're close to the podium and I hope we can hold our positions in tomorrow's race."
The race and the rest
Max Verstappen is being chased by Kimi Raikkonen
Photo: Andrew Hone / Motorsport images
Verstappen did more than that the next day. He got off reasonably well at the start but had to pass Sebastian Vettel in the first corner. Verstappen immediately hit back at Turn 3 and was already fourth when an incident turned the entire race around. The dominant Mercedes from Hamilton and Rosberg had started from the front and fought a bitter battle. They collided at Turn 4, went off the track and came to a stop in the gravel pit. What followed was a safety car with Ricciardo right behind, followed by Verstappen.
With the safety car deployed, it looked like Ricciardo could easily hold the race lead and easily drive to victory, but Verstappen stayed remarkably easy on the Australian's track. The Ferraris of Vettel and Kimi Raikkonen followed in third and fourth place.
After the first round of pit stops, the order of the races was the same except that the Ferraris were a little closer. The tactical decisions in the second series of pit stops would be crucial. Ricciardo finished first for a set of softs, followed a lap later by Vettel, who also opted for softs. Verstappen was now – for the first time in his career – in the lead of a Formula 1 race, Räikkönen behind.
The Dutchman and Finn drove a few more laps and opted for medium at their second stop. The lead was now back in Ricciardo's hands with Vettel in second, but their soft compounds proved ineffective and they both had to start a third time.
This put Verstappen back in the lead, this time refusing to give it up despite worn tires and a urging from Raikkonen. After 1 hour, 41 minutes and 40 seconds, the Dutchman became the youngest participant ever to cross the finish line of a Formula 1 race.
Team boss Christian Horner then spoke about the performance of his student. "The most important aspect of his win was his composure. With five laps to go we were all very nervous because he was running out of tyres. But there was no excitement in his voice, no panic, no tension. It was a driver who was in full control."
The history books
Max Verstappen wins the 2016 Spanish Grand Prix
Photo: Andrew Hone / Motorsport images
That cool attitude has helped Verstappen to another 22 wins since then, but that first-ever remains special. Especially since it's in the history books: Verstappen was only 18 years and 228 days old when he won in Spain and this record will probably never be broken again. Since Verstappen's F1 debut at the age of 17, Formula 1 has introduced a minimum driver age of 18. Only if a winning team hires a driver who is exactly 18 years old does it still have a chance of breaking the record within 228 days.
Thanks to Filip Cleeren